New Report dispels so called 'Gateway' Vaping Theory
New Report dispels so called 'Gateway' Vaping Theory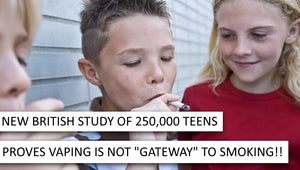 A New British study of 250,000 teens proves vaping is not a "gateway" to smoking!
A new study published in the British Medical Journal (BMJ) at the start of April 2018 is the culmination of a segmented regression analysis of repeated cross sectional survey data in England, Scotland and Wales.
This report once again indicates that an acceptance of vaping for its many cessation benefits is not leading teens into a life of smoking. The new report was met with the usual mixed reaction, the vaping community feels vindicated, while the anti-vaping lobby seem to refuse to accept the truth.
About the Report
A reasonably large team of researchers was led by Dr. Britt Hallingberg of the Center for the Development and Evaluation of Complex Interventions for Public Health Improvement at Cardiff University in the UK. The report was published in the Tobacco Control Journal,with the primary aim of the researchers primarily to foster a deeper understanding of the impact vaping plays on teen smoking, which is a hot and controversial topic in the vaping world.
They gathered information from nearly 250,000 teens aged 13-15 and asked several questions about their relationship with smoking and vaping. After analyzing all their data, the team put forward some compelling theories about teenage smoking and vaping.
Firstly, they found the number of teens who believe trying a cigarette is okay dropped from 70% in 1999 to just 27% in 2015. But more impressive is the increased speed of smoking decline after 2011, when modern e-cigarettes first became widely popular.
These stunning figures were not lost on the team, as they immediately re-enforced claims the so-called "gateway theory" is being overstated (if not wildly exaggerated). One of the key researchers said, "These findings suggest that fears over a resurgence in youth tobacco smoking because of the rise in e-cigarette use are largely unfounded to date. Negative attitudes towards smoking among young people continued to increase during a period where we saw a rapid rise in the use of e-cigarettes."
The team even went as far as to say there is absolutely no evidence e-cigarettes are in any way reversing currently declining smoking rate trends; on the contrary they are in fact speeding them up.
A Wider View
This recent piece of evidence boosts what we already know about their impact. But it's not the first report which strongly suggests the "gateway theory" is overblown.
A report conducted by Action on Smoking and Health of over 60,000 teens concluded only between 0.1% and 0.5% of non-smoking teens are ever picking up a vape more than once or twice. This means even fewer are ending up smokers in any way that can be traced to vaping. Not only that, but we also have reason to believe it's an incredibly useful smoking cessation tool.
A report by researchers at the University of Louisville tested all the most common smoking cessation tools and methods before determining it was actually vaping most likely to succeed.
Why is this study so important?
This study and others like it which analyse such a large demographic of Teens and clearly demonstrates that vaping is not leading to smoking in any way is the only way to fight back against the onslaught of false hoods generated by the anti-vaping lobby, which in fact is a mask for the still powerful Tobacco industry. Not a day goes by without some form of negative press aimed at vaping , hardly surprising when the lost Tax revenue and declining Tobacco sales are motivators behind the scenes.