Aspire Pockex All In One Starter Kit Review
Aspire Pockex All In One Starter Kit Review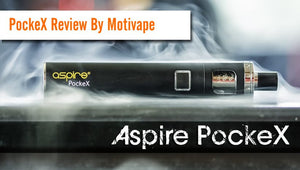 Aspire Pockex All In One Starter Kit Review
Over the years Aspire have successfully catered to the mass market with a hugely popular range of devices and tanks. The Pockex (AIO) Starter Kit is designed to appeal to smokers trying to quit.
Packaging
The packaging is exactly what you have come to expect from Aspire, plain , black and compact. Not cheap in its look or feel, but definitely not a luxury packaging effort either. Simple functionalism is the order of the day and opening a shrink wrapped box is always fun.
Once opened the box contains:
PockeX Pocket AIO Mod
USB/micro-USB cable
Two U Tech Coils SS316L 0.6 Ω
Nautilus X Tank
A user manual with pictures
Simple elegant design
Initial impressions are that the Pockex has a simple,elegant and compact design, absolutely ideal for discreet vaping or being unobtrusively slipped into a small bag or pocket. The smooth brushed steel finish and size means it is a pleasure to hold, it is very light yet reassuringly rugged. It has an easy to use top fill tank, which has a 100% leak proof guarantee by Aspire. Although the airflow holes are non-adjustable airflow, they are almost invisible and prefectly optimised. To change the coils, there is no need to drain your e-liquid first, as they screw easily into the top cap. This is brilliant and innovative design, as the majority of e-cigarettes that are of this style will have the coils submerged in the liquid necessitating a full drain of the e-liquid first. The removable steel sleeve on the tank has a max Fill line (best leaving the metal sleeve on when filling) and the mouthpiece has an integrated Delerin Drip tip.
Specifications
The PockeX is basically an Aspire Nautilus X mounted on a tubular 1500 mAh battery. Aspire includes a micro-USB wire to charge, two coils of 0.6 Ω and a small user manual. The Tank is TPD compliant with a 2ml Capacity, this may be considered small by heavy vapers but the ease with which it can be re-filled compensates for this.
A Fire button is located at the top of the battery (ON/OFF by 5 clicks)
Nautilus X tank: 2 ml
Micro-usb charging, plug not protected by a cover
Delrin drip-tip, proprietary
Remaining charge indicator
Material: Stainless steel, Pyrex and Delrin
Length, 117.7 mm
Diameter, 19.7 mm
Weight: 86g
Battery: 1500 mAh
Available Colors: Black, Rose Gold, White and Silver
Usability and Safety
Charging
The PockeX is charged from the base of the device using the small power cable supplied with it(which means that it is possible to still vape while it is charging). The 1500mAh Battery should give the average user two days of operation without a re-charge and as with all types of batteries, it's a good idea never to let the battery completely die, as it can reduce its charging capabilities over time. Helpfully the LEDs will indicate when the charge is 30% or less by changing to pink.
Safety
The PockeX has a couple of safety features to help reduce accidental operation. Pressing the button five times in succession will turn on the device with another five clicks to turn it off. The LEDs will flash blue if the device has just turned on, or pink if it has just turned off. Because of this, you will always have visual confirmation whether the device is on or off. The second safety feature is an auto cut off after ten seconds of firing, this is important so that a burn out of the coil does not occur, especially if the device has been triggered by accident in your bag or pocket. The device will also cut out after the battery has completed charging.
Vaping
As a Mouth to lung device, users will draw the vapour first into their mouths , then inhale into the lungs as a smoker would. You get roughly the same amount of smoke as you would from a cigarette which definitely re-enforces its appeal to recent quitters. Aspire tanks and coils have a good reputation for generating flavoursome vapes and the PockeX continues this tradition.
Pros
Easy to use
Overall good quality build
Large volume of vapour produced
Good rendering of flavors
Easy to swap coils
Non leaking
Top filling
Good autonomy
Quiet clearomizer
Value for money
Good battery life
Cons
Smaller TPD Compliant Tank: 2 ml
Proprietary non changeable Drip-tip
Non-adjustable Airflow
The body becomes warm with extended use
Non variable voltage
Conclusion
Ideal for newbie vapers but also a superb secondary device for seasoned users. The PockeX definitely hits the price/performance/style spot.
Buying the PockeX
Motivape stocks the Aspire PockeX as well as replacement Coils and Glass Tubes.