Space Jam High VG Liquids Now Available
Space Jam High VG Liquids Now Available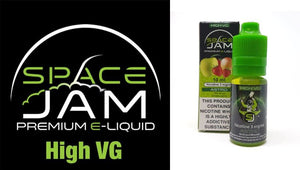 Space Jam High VG Now Available!
Arrived from another world - the cosmic Space Jam High VG Liquids are here
Space Jam has been a force of nature on the vaping scene since 2012 where it was one of the original premium e-liquid companies in such exhalted company as Beard, Cuttwood and Suicide Bunny.
They have produced a line of famous (and much imitated ) flavours such as Astro and Adromeda which have been popular for many years. With the release of their High VG range in 2017 they are aiming solidly at the sub-ohm market.
Based on popular demand we have started to stock some of their High VG range and will add to this as the weeks go by
The Space Jam High VG Flavours (So Far)
The new range of flavours with their description (courtesy of the Mums Home Baked Website) are:
Astro is described as Apples and Strawberries with a little peach thrown in to the mix and a hint of candy somewhere in amongst it too. If you like a fruity vape Astro is a smooth classic which just keeps on giving.
Eclipse is for the tobacco flavour lovers out there. It combines a classic Cavendish tobacco with a sweet notes of vanilla bean.It's smooth, full bodied and has a well deserved reputation for being one of the most realistic tobacco flavours available.
Pluto is a complex liquid bursting with flavour. The initial hit is a well balanced mix of watermelon, honeydew and cantaloupe which then combines beautifully with the bubblegum flavour and delivers very subtle notes of mint in the background. This is a light refreshing vape which is definitely one for lovers of fresh fruit flavours.