Premium E-Juice: Does It Really Make a Difference?
Premium E-Juice: Does It Really Make a Difference?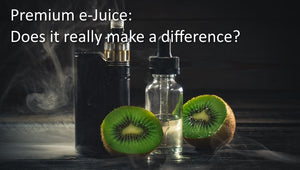 With more than 2.9 millions adults now vaping regularly in Britain, the range of vape products is growing constantly.
When you're new to vaping, it can be tricky to get your head around mods, coils, atomizers and the like - and that's before you even think about buying liquid to fill your device.
If you've been shopping around, you might have noticed that the price for vape juice can vary massively.
Wondering whether there's much difference between the cheap juices and their more expensive counterparts?
We're here to help.
Keep reading to find out exactly why it's worth investing premium e-juice.
Won't Damage Your Vape
When you buy poor-quality vape juice, you aren't only risking a substandard vaping experience - you could also damage your precious vape.
Cheap juices can contain corrosive chemicals which eat away at the inside of your vape, damaging the coil and tank.
You might also find that the juice forms into thick gunk which clogs up your vape and makes it impossible to take a drag.
If you've spent money on a good vape, don't risk damaging it with cheap juice.
High-Quality Packaging
When you buy premium e-juice, you're buying into an entire lifestyle.
The packaging will range from luxury to novelty and is sure to catch the attention of your vape-loving friends. Think glass bottles, skull-shaped vials, and seriously well-designed packaging.
If you want to support cool vape companies and let the world know that you've got great taste, you need to spend a little more.
Wider Range of Flavors
Many premium e-juices cost more because manufacturers have spent time developing their own unique flavours, using special compounds and secret recipes.
Say goodbye to generic apple and raspberry, and say hello to pumpkin pie, cotton candy, chai latte, and more.
When you're willing to splash out a little, you open up a whole world of flavour potential. If you're bored of standard flavours, now's the time to start treating yourself to premium juices.
Better Taste While Vaping
Ever bought a flavour that looked amazing, then been sorely disappointed when you started vaping?
We've all been there.
While cheap e-liquids might sound appealing, they typically have weak flavours that are hard to differentiate from one another.
When you pay for premium, you'll get strong, full-bodied flavours that are unique and memorable.
If taste is a big part of your vaping experience, you need to start buying premium juices. Be warned - you might struggle to go back.
Should You Pay for Premium E-Juice?
If you want the best possible vaping experience, you should steer well clear of cheap vape juices.
Premium juices won't damage your device, are available in a much wider range of flavours, taste better while vaping, and come in awesome packaging.
The more you enjoy vaping, the less chance you'll be lured back to smoking traditional cigarettes.
Treat yourself to premium vape juice today - you might be amazed by the difference.
Want more expert vaping tips and tricks? Check out our blog today.