Motivape responds to TPD
Motivape responds to TPD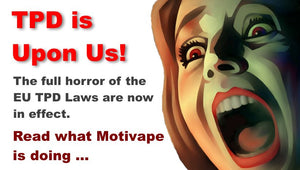 TPD and Motivape
As of May 20th 2017 we are under the full weight of the EU's business destroying TPD regulations!
How does this affect our product range?
All existing Nicotine containing products (and variations of) must be emission tested and certified then submitted to the MHRA. This means that for a single flavour with 7 VG/PG/Nicotine variations we would require 7 tests, we have over 240 Flavours, each test costs hundreds of pound so testing all 240 Flavours at 7 variations would cost well in excess of half a million pounds!
All new Nicotine containing products (i.e new flavours) must be emission tested, certified and submitted to the MHRA 6 MONTHS IN ADVANCE
What we cant do
We can no longer sell bottles larger than 10ml which contain Nicotine
No Nicotine containing bottle can exceed 2mg in strength
Sell non TPD compliant Nicotine Containing e-liquids
Sell non TPD compliant e-cigarette products or accessories
What we can do
We can still sell bottles of e-liquid of any size (10ml/100ml) containing no nicotine with no TPD requirements.
We are selling other manufacturers TPD compliant eliquid products (as we do for e-cigarettes).
What we are going to do about this for our product range?
The idea will be to sell a small range of TPD compliant VG/PG/Nicotine base liquids. We will also sell small bottles of flavour concentrate. If a customer chooses to combine them that will be their choice and something we bear no responsibility for.
What does this mean for customers who want 10ml Bottles
You will use our website as normal and select a Flavouring and indicate the preferred Nicotine base strength.
You will be sent the 10ml TPD Compliant Base liquid (Containing the VG/PG and Nicotine) and the separate 2ml bottle of Flavouring. It would be up to you to decide to combine them.
or ... you can select the option to have us 'Combine' the flavour and base liquid AFTER purchase and send the combined 10ml Bottle to you.
What does this mean for customer who want a 100ml of an e-liquid
If you want 100ml bottles of e-liquid with 0% Nicotine , we will still sell these as normal as they are not affected by TPD laws.
For customers who want 100ml of e-liquid with Nicotine, we will offer a special 100ml Equivalence pack which will contain:
10 X 10ml Base liquids of the required strength.
2 X 10ml Bottles of Flavour Concentrate.
1 X 100ml Bottle with a flavour specific label
The 100ml TPD Equivalence pack comes with an option for us to combine the bottles for you AFTER purchase FREE of charge and send the 100ml bottle on to you.