5 great Juices for Vape Cloud Chasing
5 great Juices for Vape Cloud Chasing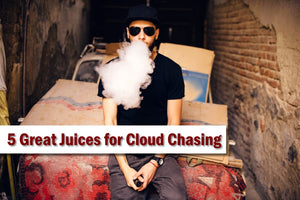 5 great Juices for Vape Cloud Chasing
Want to create big, beautiful clouds to go along with your nicotine kick? Read on for the 5 best e-juice blends and hacks for serious vape cloud chasing.
Keyword(s): cloud chasing
You've probably seen them on the street and on the web.
You know, those vape masters who are professionals when it comes to the fine art of cloud chasing.
Vaping has become a fun and interactive way to get your nicotine kick. We love it so much that we've explored the ins and outs pretty extensively.
So how can you make those giant clouds of vapour that you see everywhere? There's got to be some sort of secret, right?
Well, as it turns out. There is! You just need the right kind of vape juice.
Come along as we take you through the 5 Best Juices for Vape Cloud Chasing
1. 100ml Bottles Max-VG E-Liquid
100ml Bottles have got your cloud chasing ambitions covered with their Max VG E-liquid range. You will be puffing out vapour like a steam engine in no time.
This VG E Liquid is meant for you to drip at a high wattage. This is so you can get the maximum flavor and to help you with your cloud chasing.
This Max VG liquid is kicked up a notch in order to produce some of the thickest and most flavourful clouds of vapour possible.
100ml Bottles UK realizes how intense the nicotine content can be for some vape juices meant for cloud chasing. So, they offer dozens of different flavour choices with different nicotine levels between 0mg, 3mg, 6mg , 12mg and 18mg as well as being able to specify extra sweetner, sour and menthol shots. We love those kinds of options.
2. Firebrand Sub-OHM E-Juice
Firebrand's Sub-OHM is the perfect E-Juice for those dedicated to cloud chasing.
The juice was made to be used in some of the higher quality Sub-OHM vaporizers with RBAs and RDAs. It is made with 70-75% VG juice. This helps you to create the most intense vape clouds with a maximum amount of flavor.
Firebrand is so confident that you will enjoy this cloud chasing elixir that they offer it in not only 30 ml glass bottles. They also offer it in 60 and 90 ml glass bottles. Each bottle comes with drippers. These will help you add as little or as much vape juice as your heart desires.
If chasing clouds is your passion, Firebrand really has set the bar with how much they can provide you with on your journey.
3. Alloy Blends Electrum Density
Alloy Blends is the equivalent of a luxury brand in the world of vape juices. Just look at some of these insane reviews!
Are you are looking for a brand of cloud-centric vape juice that could be on the more high-class end of the spectrum? If so, you should look no further than the Alloy Blends Electrum Density.
Density is the key word with this vape juice from Alloy Blends. However, don't count out their flavor. Electrum Density is basically the caviar for all cloud chasing vape enthusiasts. In short, it is THE vape juice to beat on the market.
So if you are ready to step up to the plate and start chasing clouds into the stratosphere, we'd recommend checking out the Alloy Blends Electrum Density.
If you are brand new to the world of massive vape clouds, we suggest that you should start with something else for the lower price.
4. Vista Select Cloud Series
If you want to go for a safe bet for a high-quality vape juice at a bargain price, we would suggest trying out the Vista Select Cloud Series.
But let's be clear here: To say it's a bargain vape juice, does not mean it's a bad vape juice!
Vista Select has been around for a while. In fact, they are one of the most common vape juice brands out there. So when you hear their name, you generally don't think of them as producing impressive boutique cloud producing juices.
That's where their Select Cloud Series comes in.
This select line of vape juice was engineered at 90% VG for maximum dripping capabilities. It helps you to create huge thick clouds that can compete with the best of the best. They offer this special line of vape juice in five different flavors. It comes in 0, 3, 6, 12 as well as 18mg of nicotine.
No matter what level of cloud producing vape wizard you may be, the Vista Select Cloud Series has got you covered.
5. Namber Juice Epiclouds Max VG
Namber Juice Epiclouds Max VG is another vape juice specifically designed to help you chase clouds.
With different wild flavors including Doughnut Pounder and Mom's Pineapple Cake, Namber wants you to enjoy their flavors as much as you enjoy puffing out those giant clouds.
With all of this kick, Namber also wants to go easy on your wallet. By using 30ml plastic bottles instead of glass, they cost much less than some of their pricey competition all while packing the same amount of punch.
So if you want to have a tasty journey into creating those vape clouds you desire, look no further than Namber Juice Epiclouds Max VG.
Now You Know the 5 Best Juices for Vape Cloud Chasing
With these 5 juices, you will be able to produce the biggest vape clouds imaginable.
Whether you are brand new to cloud chasing or if you are vape cloud samurai master, these juices will get you where you want to go. People will think you are an active volcano with how much vapor you will be sending out into the air.
And if you are looking for the taste of one vape juice and the cloud of another, we would suggest vape hacking some of the lines out there and making your own custom combinations. Use these juices to your advantage and start chasing those clouds!
If you have any more questions on other products to improve your chasing abilities, feel free to send us a message through our contact page. Also, make sure to leave a comment at the bottom of this post.
Join the vaping community today to meet new people and learn more about how to get the most out of every puff.
We are here to help you become the best vape dragon you can be!